Bringing USAs most popular sport to the UKs growing fan-base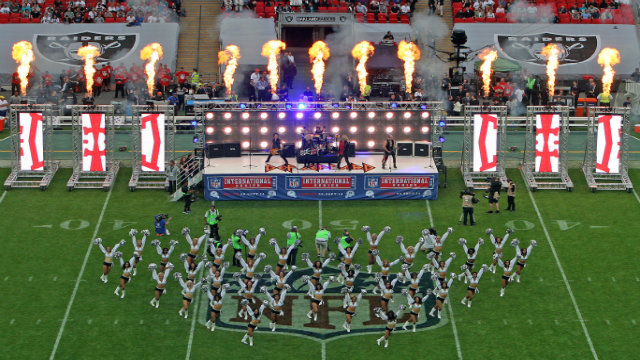 In 2007, the first International Series Game between the Miami Dolphins and New York Giants was played at Wembley. Following this success, one game has been played each year until 2013 when this was increased to two games and then three games from 2014. Due to the popularity and success of the NFL in the UK, London will now stage four games at Wembley and Twickenham to sell-out crowds. In addition, free to attend events also take place in the capital and these have included NFL on Regents Street and the Tail Gate at Wembley.
From 2018-2027 at least two games will be played in Tottenham Hotspurs' new Stadium in Northumberland Park.
What we did
1/ We worked with the National Football League (NFL) to bring its first international competitive game to London (2007). This included providing Mayoral endorsement, use of the Mayor's venues and marketing support.
2/ We targeted media and leisure campaign activity in New York and Miami (including media promotion in NY with black taxis and a "London-hosted" game screening in Miami), and helped with team logistics in London e.g. team training sites and accommodation
3/ We hosted a "Welcome to London Dinner" with the Mayor, NFL execs, team owners and high-profile guests attending a "Global Sport Leaders Summit" co-hosted by NFL and Economist. The dinner has become a regular feature - Global Sports Leaders Dinner.
4/ We have supported the NFL with ticket marketing, additional fan experience on Regent Street, a detailed Economic Impact study and exploring feasibility of more permanent training/accommodation facilities in London (in conjunction with GLA).  London & Partner's also hosted the Jacksonville Jaguars home team picks during the live televised NFL Draft since 2015
Key results
Attendees to NFL on Regent Street
Yahoo live streams of Jacksonville Jaguars v Buffalo Bills, Wembley