The Queen Elizabeth II Conference Centre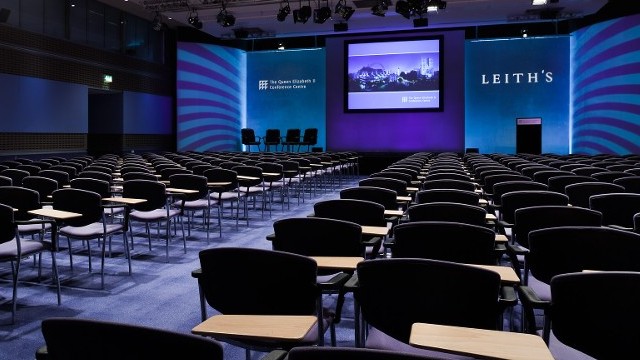 Venue Details
The Queen Elizabeth II Conference Centre Overview
London's Queen Elizabeth II Conference Centre (QEIICC)is a secure purpose-built conference facility, uniquely situated in the shadow of Big Ben, Westminster Abbey and the London Eye.
The QEIICC caters for national and international meetings up to the highest level and offers the finest facilities to meeting planners. The centre combines modern comfort with the very latest in technology. Specialising in events of 2-2,500 delegates, the conference rooms and smaller meeting rooms are flexible and may be used in a variety of combinations.
Leith's at the centre, and the in-house AV production team Interface, both offer outstanding services, tailored to suit your exact event requirements.
The Queen Elizabeth II Conference Centre Room Layouts
| Room | Style | Capacity |
| --- | --- | --- |
| Abbey (130m² / 1,398.8ft²) | | |
| | Reception | 100 |
| | Classroom | 50 |
| | Cabaret | 56 |
| | Banqueting | 70 |
| | Theatre | 110 |
| | Boardroom | 40 |
| | Hollow Square | 40 |
| Benjamin Britten Lounge (767m² / 8,252.92ft²) | | |
| | Reception | 900 |
| | Dinner/Dance | 350 |
| | Banqueting | 450 |
| Caxton Lounge (477m² / 5,132.52ft²) | | |
| | Reception | 400 |
| | Banqueting | 300 |
| | Exhibition | 477 |
| Churchill Auditorium (720m² / 7,747.2ft²) | | |
| | Classroom | 328 |
| | Cabaret | 280 |
| | Theatre | 700 |
| | Boardroom | 92 |
| Elizabeth Windsor Room (330m² / 3,550.8ft²) | | |
| | Reception | 300 |
| | Classroom | 80 |
| | Cabaret | 77 |
| | Banqueting | 200 |
| | Theatre | 180 |
| | Boardroom | 42 |
| Fleet Room (90m² / 968.4ft²) | | |
| | Reception | 60 |
| | Classroom | 30 |
| | Cabaret | 28 |
| | Banqueting | 40 |
| | Theatre | 75 |
| | Boardroom | 30 |
| Fleming & Whittle Rooms Combined (1,300m² / 13,988ft²) | | |
| | Reception | 1200 |
| | Classroom | 600 |
| | Cabaret | 497 |
| | Banqueting | 930 |
| | Theatre | 1300 |
| Fleming Room (800m² / 8,608ft²) | | |
| | Reception | 800 |
| | Classroom | 348 |
| | Cabaret | 294 |
| | Theatre | 780 |
| | Boardroom | 100 |
| | Hollow Square | 100 |
| Henry Moore (130m² / 1,398.8ft²) | | |
| | Reception | 100 |
| | Classroom | 50 |
| | Cabaret | 56 |
| | Banqueting | 70 |
| | Theatre | 110 |
| | Boardroom | 40 |
| | Hollow Square | 40 |
| Mountbatten Lounge (510m² / 5,487.6ft²) | | |
| | Reception | 400 |
| | Banqueting | 280 |
| Mountbatten Room (293m² / 3,152.68ft²) | | |
| | Cabaret | 140 |
| | Theatre | 300 |
| Pickwick Suite (435m² / 4,680.6ft²) | | |
| | Reception | 500 |
| | Dinner/Dance | 150 |
| | Banqueting | 260 |
| | Exhibition | 435 |
| Rutherford (126m² / 1,355.76ft²) | | |
| | Reception | 90 |
| | Classroom | 40 |
| | Cabaret | 35 |
| | Banqueting | 60 |
| | Theatre | 78 |
| | Boardroom | 30 |
| | Hollow Square | 30 |
| St James's Suite (290m² / 3,120.4ft²) | | |
| | Reception | 250 |
| | Classroom | 50 |
| | Cabaret | 56 |
| | Banqueting | 120 |
| | Theatre | 120 |
| | Boardroom | 30 |
| | Hollow Square | 30 |
| Thames Room (258m² / 2,776.08ft²) | | |
| | Reception | 230 |
| | Classroom | 50 |
| | Cabaret | 60 |
| | Banqueting | 150 |
| | Theatre | 100 |
| | Boardroom | 50 |
| | Hollow Square | 50 |
| Westminster Suite (355m² / 3,819.8ft²) | | |
| | Reception | 300 |
| | Classroom | 66 |
| | Cabaret | 63 |
| | Banqueting | 160 |
| | Theatre | 140 |
| Whittle Room (500m² / 5,380ft²) | | |
| | Reception | 550 |
| | Dinner/Dance | 250 |
| | Classroom | 206 |
| | Cabaret | 161 |
| | Banqueting | 340 |
| | Theatre | 400 |
| | Boardroom | 80 |
| | Hollow Square | 80 |
| | Exhibition | 500 |
The Queen Elizabeth II Conference Centre Facilities:
Accessible Bathroom Facilities

Designated wheelchair accessible public toilet


Accessible Communication Facilities

Audible alarm system
Hearing loop system


Accessible Venue Facilities

Assistance dogs welcome
Emergency evacuation procedures for guests with disabilities
Special dietary requirements catered for
Staff available to assist
Staff available twenty four hours
Staff disability awareness trained


Access into the Building

Ramps from parking area to entrance
Ramps with handrails to entrance
Steps with handrails to entrance


Additional Accessible Facilities

Level access, ramp or lift from entrance to reception


Accessible Parking Facilities

Blue badge parking available
Designated disabled parking available within fifty metres of main entrance
Drop-off point for guests available outside main entrance


Access Inside Building Facilities

Accessible lift
Lift buttons with raised numbers or letters
Lift with spoken announcements on arrival at each floor
Ramps within building
Some routes suitable for limited mobility users
Some routes suitable for wheelchair users


Catering Facilities

Private dining


Event Facilities

In house AV available
Available for wedding receptions
Breakout Rooms
Business centre
Conference rooms / Meeting rooms
Event facilities
Venue can display vehicles inside


General Facilities

Internet access
Lifts
Good views
Wi-Fi access


Payment Facilities

Credit cards accepted
Debit cards accepted

The Queen Elizabeth II Conference Centre Location Map
Directions to The Queen Elizabeth II Conference Centre
Tube: Westminster,St James' Park. train: Victoria
Find places of interest nearby:
The Queen Elizabeth II Conference Centre Contact Details
Address:

Broad Sanctuary
City of Westminster
London
SW1P 3EE

Tel:

+44 (0)20 7798 4000

Fax:

+44 (0)20 7798 4200

Email:

Web: