Chelsea Football Club - Stamford Bridge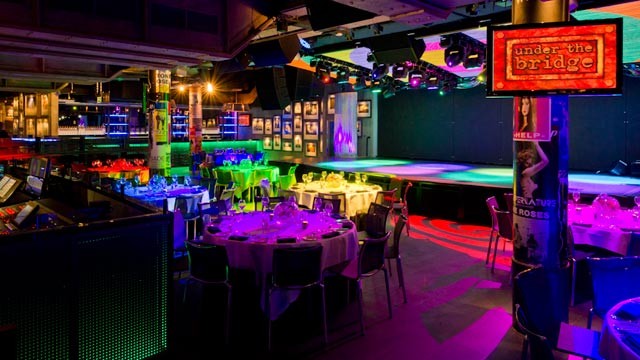 Venue Details
Chelsea Football Club - Stamford Bridge Overview
Chelsea FC really is London's most complete venue. With a choice of restaurants, hotels, a music venue, a five-star spa, and football from the most exciting league in the world.
21 function rooms, 60 syndicate rooms and two contemporary four-star hotels provide premium accommodation to delegates while a selection of restaurants and bars cater for all tastes. Completing the venue is London's most exclusive health club and spa, The Chelsea Club.
All conveniently located on one site, including a secure underground car park, with easy access to all major transport links.
Chelsea Football Club - Stamford Bridge Room Layouts
| Room | Style | Capacity |
| --- | --- | --- |
| Bonetti (300m² / 3,228ft²) | | |
| | Reception | 250.0 |
| | Dinner/Dance | 130.0 |
| | Classroom | 100.0 |
| | Cabaret | 100.0 |
| | Banqueting | 150.0 |
| | Theatre | 160.0 |
| | U Shaped | 50.0 |
| Centenary Hall (512m² / 5,509.12ft²) | | |
| | Reception | 550.0 |
| | Banqueting | 300.0 |
| Clarke (300m² / 3,228ft²) | | |
| | Reception | 250.0 |
| | Dinner/Dance | 130.0 |
| | Classroom | 100.0 |
| | Cabaret | 100.0 |
| | Banqueting | 150.0 |
| | Theatre | 160.0 |
| | U Shaped | 50.0 |
| Drake (497m² / 5,347.72ft²) | | |
| | Reception | 400.0 |
| | Dinner/Dance | 300.0 |
| | Classroom | 180.0 |
| | Cabaret | 180.0 |
| | Banqueting | 330.0 |
| | Theatre | 350.0 |
| | Exhibition | 497.0 |
| Executive Box (22m² / 236.72ft²) | | |
| | Reception | 32.0 |
| | Dinner/Dance | 16.0 |
| | Boardroom | 16.0 |
| Harris (497m² / 5,347.72ft²) | | |
| | Reception | 400.0 |
| | Dinner/Dance | 300.0 |
| | Classroom | 180.0 |
| | Cabaret | 180.0 |
| | Banqueting | 330.0 |
| | Theatre | 350.0 |
| Hollins (300m² / 3,228ft²) | | |
| | Reception | 250.0 |
| | Dinner/Dance | 130.0 |
| | Classroom | 100.0 |
| | Cabaret | 100.0 |
| | Banqueting | 150.0 |
| | Theatre | 160.0 |
| | U Shaped | 50.0 |
| Marco (100m² / 1,076ft²) | | |
| | Reception | 150.0 |
| | Banqueting | 90.0 |
| | Theatre | 60.0 |
| Millennium Suite (55m² / 591.8ft²) | | |
| | Reception | 35.0 |
| | Banqueting | 24.0 |
| | Boardroom | 24.0 |
| | Exhibition | 40.0 |
| | U Shaped | 18.0 |
| Tambling (300m² / 3,228ft²) | | |
| | Reception | 250.0 |
| | Dinner/Dance | 130.0 |
| | Classroom | 100.0 |
| | Cabaret | 100.0 |
| | Banqueting | 150.0 |
| | Theatre | 160.0 |
| | U Shaped | 50.0 |
| The Great Hall (1,400m² / 15,064ft²) | | |
| | Reception | 1500.0 |
| | Dinner/Dance | 700.0 |
| | Classroom | 500.0 |
| | Cabaret | 550.0 |
| | Banqueting | 750.0 |
| | Theatre | 900.0 |
| Under the Bridge (720m² / 7,747.2ft²) | | |
| | Reception | 600.0 |
| | Cabaret | 250.0 |
| | Banqueting | 300.0 |
| | Theatre | 330.0 |
| Vialli (100m² / 1,076ft²) | | |
| | Reception | 80.0 |
| | Dinner/Dance | 40.0 |
| | Classroom | 35.0 |
| | Cabaret | 42.0 |
| | Banqueting | 60.0 |
| | Theatre | 60.0 |
| | Boardroom | 30.0 |
| | U Shaped | 26.0 |
| Wise (84m² / 903.84ft²) | | |
| | Reception | 130.0 |
| | Dinner/Dance | 56.0 |
| | Banqueting | 72.0 |
| | Theatre | 40.0 |
| | Boardroom | 20.0 |
| | U Shaped | 20.0 |
| Zola (84m² / 903.84ft²) | | |
| | Reception | 130.0 |
| | Dinner/Dance | 56.0 |
| | Banqueting | 72.0 |
| | Theatre | 40.0 |
| | Boardroom | 20.0 |
| | Exhibition | 84.0 |
| | U Shaped | 20.0 |
Chelsea Football Club - Stamford Bridge Facilities:
Access into the Building

Flat routes from parking area to entrance


Attraction Facilities

Public toilets


Catering Facilities

Bar
Cafe
Restaurant


Event Facilities

In house AV available
Available for wedding receptions
Breakout Rooms
Licenced for civil marriages
Raked or tiered seating offered


General Facilities

On-site coach parking

Chelsea Football Club - Stamford Bridge Location Map
Directions to Chelsea Football Club - Stamford Bridge
Tube: Fulham Broadway
Find places of interest nearby:
Chelsea Football Club - Stamford Bridge Contact Details
Address:

Fulham Road
Fulham
London
SW6 1HS

Tel:

0871 9841955

Email:

Web: