Royal Institute of British Architects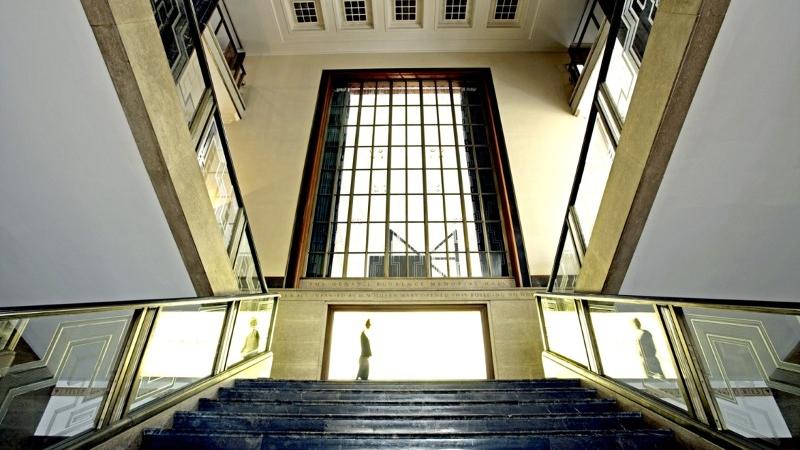 Venue Details
Royal Institute of British Architects Overview
With light, versatile space and breathtaking London views, the RIBA is certain to make an impression. Built for creative architects, the light-flooded space with intricate details is bound to inspire.
Ascend the grand marble stairs to the Florence Hall. An elegant venue for dining, awards and weddings, it has the added bonus of an adjoining roof terrace for the summer months.
Ascend further to the top floors for a variety of meeting and intimate dining rooms providing rooms with views over London.
For larger conferences, the Jarvis auditorium can accommodate up to 400. The integrated audio-visual technology within the auditorium makes it an ideal space to meet and be inspired.
Royal Institute of British Architects Room Layouts
| Room | Style | Capacity |
| --- | --- | --- |
| Aston Webb Room (49m² / 527.24ft²) | | |
| | Reception | 40.0 |
| | Cabaret | 21.0 |
| | Classroom | 18.0 |
| | Banqueting | 20.0 |
| | Boardroom | 22.0 |
| | Theatre | 35.0 |
| | U Shaped | 19.0 |
| Council Chamber (88m² / 946.88ft²) | | |
| | Reception | 70.0 |
| | Cabaret | 15.0 |
| | Banqueting | 20.0 |
| | Boardroom | 20.0 |
| | Theatre | 46.0 |
| | U Shaped | 20.0 |
| Florence Hall (322m² / 3,464.72ft²) | | |
| | Dinner/Dance | 200.0 |
| | Reception | 400.0 |
| | Round Tabled | 250.0 |
| | Banqueting | 250.0 |
| | Theatre | 300.0 |
| | Exhibition | 322.0 |
| | ???layout.room-height??? | 8.0 |
| Jarvis Auditorium (130m² / 1,398.8ft²) | | |
| | Dinner/Dance | 60.0 |
| | Reception | 220.0 |
| | Round Tabled | 120.0 |
| | Tiered | 400.0 |
| | Banqueting | 120.0 |
| | Theatre | 400.0 |
| | Exhibition | 130.0 |
| Lutyens Room (84m² / 903.84ft²) | | |
| | Reception | 100.0 |
| | Round Tabled | 50.0 |
| | Cabaret | 50.0 |
| | Classroom | 24.0 |
| | Banqueting | 50.0 |
| | Boardroom | 30.0 |
| | Theatre | 70.0 |
| | U Shaped | 26.0 |
| RIBA Gallery (110m² / 1,183.6ft²) | | |
| | Reception | 250.0 |
| | Round Tabled | 104.0 |
| | Cabaret | 63.0 |
| | Banqueting | 104.0 |
| | Theatre | 126.0 |
| | Exhibition | 110.0 |
| Wren and Hawksmoor Rooms (130m² / 1,398.8ft²) | | |
| | Dinner/Dance | 50.0 |
| | Round Tabled | 80.0 |
| | Cabaret | 80.0 |
| | Classroom | 4.0 |
| | Banqueting | 70.0 |
| | Boardroom | 40.0 |
| | Theatre | 100.0 |
| | Exhibition | 130.0 |
| | U Shaped | 31.0 |
Royal Institute of British Architects Facilities:
Attraction Facilities

Indoors

Royal Institute of British Architects Location Map
Directions to Royal Institute of British Architects
Regent's Park, Great Portland Street or Oxford Circus
Find places of interest nearby:
Royal Institute of British Architects Contact Details
Address:

66 Portland Place
London
W1B 1AD

Tel:

+44 (0)20 7307 3888

Email:

Web: