Radisson Blu Edwardian, Vanderbilt Hotel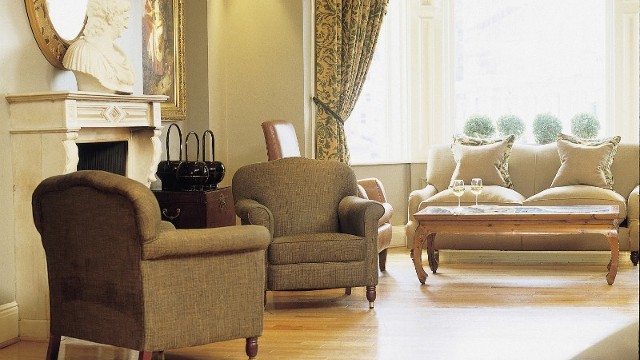 Venue Details
Radisson Blu Edwardian, Vanderbilt Hotel Overview
Located in a prime location within the South Kensington, the 4 star Radisson Blu Edwardian, Vanderbilt Hotel, was once residence of the Vanderbilt family. Many of the homes original features have been carefully restored. The deluxe facilities and prime location of this central London hotel makes it the perfect base for both the business and leisure traveller.
The 215 rooms at the Vanderbilt London hotel have a warm classic English ambiance and feature rich decor and marble-clad bathrooms. Larger deluxe rooms include upgraded amenities, such as extra work space and seating area. Access to bedroom floors is by room key only.
68-86 Bar and Restaurant, at The Vanderbilt London Hotel is a smart contemporary place in which to dine. The menu provides the best of British cooking with Pacific Rim influences. 68-86 bar and restaurant is the perfect destination for breakfast, lunch and dinner.
With nine stylish function rooms, the London Vanderbilt Hotel is ideal for all types of events from meetings and training courses to weddings for up to 100 guests. A dedicated conference team will ensure the success of your event.
Radisson Blu Edwardian, Vanderbilt Hotel Room Layouts
| Room | Style | Capacity |
| --- | --- | --- |
| Alexandra Suite (39m² / 419.64ft²) | | |
| | Reception | 40.0 |
| | Classroom | 15.0 |
| | Banqueting | 16.0 |
| | Boardroom | 16.0 |
| | Theatre | 25.0 |
| | U Shaped | 14.0 |
| Ashburn Suite (40m² / 430.4ft²) | | |
| | Reception | 20.0 |
| | Round Tabled | 10.0 |
| | Classroom | 12.0 |
| | Boardroom | 12.0 |
| | Theatre | 24.0 |
| | U Shaped | 10.0 |
| Brompton Suite (39m² / 419.64ft²) | | |
| | Reception | 40.0 |
| | Classroom | 15.0 |
| | Banqueting | 16.0 |
| | Boardroom | 16.0 |
| | Theatre | 25.0 |
| | U Shaped | 14.0 |
| Cleos Suite (101m² / 1,086.76ft²) | | |
| | Reception | 100.0 |
| | Round Tabled | 90.0 |
| | Cabaret | 25.0 |
| | Classroom | 30.0 |
| | Banqueting | 90.0 |
| | Boardroom | 30.0 |
| | Theatre | 60.0 |
| | U Shaped | 24.0 |
| Cornwell Suite (28m² / 301.28ft²) | | |
| | Banqueting | 10.0 |
| | Theatre | 18.0 |
| | U Shaped | 2.0 |
| Cromwell Suite (52m² / 559.52ft²) | | |
| | Reception | 50.0 |
| | Round Tabled | 50.0 |
| | Cabaret | 24.0 |
| | Classroom | 24.0 |
| | Banqueting | 50.0 |
| | Boardroom | 24.0 |
| | Theatre | 40.0 |
| | U Shaped | 20.0 |
| Edwardian Suite (51m² / 548.76ft²) | | |
| | Reception | 60.0 |
| | Round Tabled | 50.0 |
| | Cabaret | 25.0 |
| | Classroom | 25.0 |
| | Banqueting | 50.0 |
| | Boardroom | 20.0 |
| | Theatre | 50.0 |
| | U Shaped | 18.0 |
| Gloucester Suite (19m² / 204.44ft²) | | |
| | Boardroom | 8.0 |
| Harrington Suite (39m² / 419.64ft²) | | |
| | Reception | 40.0 |
| | Classroom | 15.0 |
| | Banqueting | 16.0 |
| | Boardroom | 16.0 |
| | Theatre | 25.0 |
| | U Shaped | 14.0 |
| Kesington Suite (19m² / 204.44ft²) | | |
| | Boardroom | 8.0 |
| Stanhope Suite (28m² / 301.28ft²) | | |
| | Reception | 20.0 |
| | Round Tabled | 10.0 |
| | Classroom | 12.0 |
| | Banqueting | 10.0 |
| | Boardroom | 12.0 |
| | Theatre | 18.0 |
| | U Shaped | 10.0 |
| The Victoria & Albert Suite (97m² / 1,043.72ft²) | | |
| | Reception | 140.0 |
| | Round Tabled | 100.0 |
| | Cabaret | 40.0 |
| | Classroom | 56.0 |
| | Banqueting | 100.0 |
| | Boardroom | 40.0 |
| | Theatre | 100.0 |
| | U Shaped | 35.0 |
| Vanderbuilt Suite (38m² / 408.88ft²) | | |
| | Banqueting | 12.0 |
| | Boardroom | 12.0 |
Radisson Blu Edwardian, Vanderbilt Hotel Facilities:
Catering Facilities

Bar
Halal options on menu
Kosher options on menu
Nut-free option on menu
Vegetarian options on menu


Children Facilities

Children welcome


Event Facilities

Breakout Rooms
Conference rooms / Meeting rooms


General Facilities

Internet access
Ironing facilities
Lifts


Leisure Facilities

Fitness centre


Payment Facilities

Credit cards accepted
Debit cards accepted
Euros accepted
Traveller cheques accepted


Room Facilities

Air conditioning
Drink making facilities
Hairdryer
Telephone
Television


Service Facilities

Currency exchange
Laundry service / Dry cleaning
Room service

Radisson Blu Edwardian, Vanderbilt Hotel Location Map
Directions to Radisson Blu Edwardian, Vanderbilt Hotel
Tube: Gloucester Road
Find places of interest nearby:
Radisson Blu Edwardian, Vanderbilt Hotel Contact Details
Address:

68-86 Cromwell Road
London
SW7 5BT

Tel:

+44 (0)20 7761 9000

Fax:

+44 (0)20 7791 9001

Email:

Web: