London Hilton on Park Lane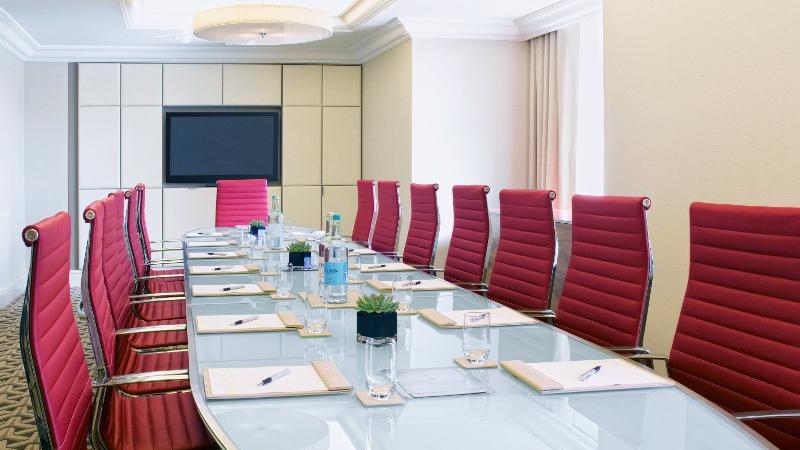 Venue Details
London Hilton on Park Lane Overview
The London Hilton on Park Lane is located in Mayfair on Park Lane and enjoys one of the most prestigious addresses in the world.
The hotel was the official headquarters hotel for the International Olympic Comittee during the London 2012 Olympic Games and is home to 13 venues including two magnificent ballrooms. The Grand Ballroom is one of the largest and grandest in London, hosting dazzling occasions for as many as 1,250 guests. The cuisine is especially sublime with award-winning chef Anthony Marshall ensuring each event is catered for to the highest standard.
The Wellington Ballroom on the first floor holds up to 200 people and has panoramic windows, giving spectacular views of Park Lane and Hyde Park. The hotel also boasts 8 chic rooms in Hilton Meetings on the 4th floor, all with a modern look and feel. All rooms have the latest in technology and boast natural daylight.
Meanwhile, the five distinct bars and restaurants offer something for every mood, from Michelin-starred restaurant Galvin at Windows to glamorous nightclub Whisky Mist at Zeta.
The hotel was awarded 'UK Best Business Hotel 2011' by the Business Traveller Magazine for the fifth time and 'England's Leading Business Hotel 2009' by the World Travel Awards Europe.
London Hilton on Park Lane Room Layouts
| Room | Style | Capacity |
| --- | --- | --- |
| Argyll Suite (36m² / 387.36ft²) | | |
| | Reception | 40.0 |
| | Banqueting | 20.0 |
| | Theatre | 18.0 |
| | Boardroom | 16.0 |
| Atholl Suite (12m² / 129.12ft²) | | |
| | Boardroom | 4.0 |
| Boardroom (29m² / 312.04ft²) | | |
| | Boardroom | 16.0 |
| Coronation Suite (115m² / 1,237.4ft²) | | |
| | Reception | 170.0 |
| | Dinner/Dance | 50.0 |
| | Classroom | 80.0 |
| | Cabaret | 80.0 |
| | Banqueting | 100.0 |
| | Theatre | 130.0 |
| | Boardroom | 30.0 |
| | U Shaped | 45.0 |
| Coronation and Hertford Suite (203m² / 2,184.28ft²) | | |
| | Reception | 250.0 |
| | Dinner/Dance | 150.0 |
| | Classroom | 100.0 |
| | Cabaret | 130.0 |
| | Banqueting | 180.0 |
| | Theatre | 180.0 |
| | Boardroom | 60.0 |
| | U Shaped | 55.0 |
| Crystal Palace Suite (185m² / 1,990.6ft²) | | |
| | Reception | 180.0 |
| | Dinner/Dance | 80.0 |
| | Classroom | 70.0 |
| | Cabaret | 70.0 |
| | Banqueting | 110.0 |
| | Theatre | 110.0 |
| | Boardroom | 50.0 |
| | U Shaped | 45.0 |
| Grand Ballroom (937m² / 10,082.12ft²) | | |
| | Reception | 1250.0 |
| | Dinner/Dance | 900.0 |
| | Classroom | 600.0 |
| | Cabaret | 650.0 |
| | Banqueting | 1100.0 |
| | Theatre | 1100.0 |
| | U Shaped | 200.0 |
| Grand Ballroom Section 1 (349m² / 3,755.24ft²) | | |
| | Reception | 400.0 |
| | Classroom | 200.0 |
| | Cabaret | 250.0 |
| | Banqueting | 300.0 |
| | Theatre | 350.0 |
| | U Shaped | 80.0 |
| Grand Ballroom Section 2 (356m² / 3,830.56ft²) | | |
| | Reception | 450.0 |
| | Dinner/Dance | 250.0 |
| | Classroom | 300.0 |
| | Cabaret | 250.0 |
| | Banqueting | 350.0 |
| | Theatre | 400.0 |
| | U Shaped | 120.0 |
| Grand Ballroom Section 3 (200m² / 2,152ft²) | | |
| | Reception | 200.0 |
| | Classroom | 120.0 |
| | Cabaret | 100.0 |
| | Banqueting | 120.0 |
| | Theatre | 180.0 |
| | U Shaped | 80.0 |
| Harvest Suite (133m² / 1,431.08ft²) | | |
| | Reception | 200.0 |
| | Classroom | 60.0 |
| | Cabaret | 60.0 |
| | Banqueting | 100.0 |
| | Theatre | 90.0 |
| | Boardroom | 30.0 |
| | U Shaped | 30.0 |
| Hertford Suite (62m² / 667.12ft²) | | |
| | Reception | 60.0 |
| | Banqueting | 40.0 |
| | Theatre | 40.0 |
| | Boardroom | 20.0 |
| | U Shaped | 20.0 |
| Marlborough Suite (38m² / 408.88ft²) | | |
| | Reception | 50.0 |
| | Banqueting | 20.0 |
| | Theatre | 18.0 |
| | Boardroom | 20.0 |
| Nelson (19m² / 204.44ft²) | | |
| | Reception | 30.0 |
| | Banqueting | 12.0 |
| | Theatre | 15.0 |
| | Boardroom | 10.0 |
| Serpentine (81m² / 871.56ft²) | | |
| | Reception | 100.0 |
| | Classroom | 25.0 |
| | Cabaret | 40.0 |
| | Banqueting | 50.0 |
| | Theatre | 55.0 |
| | Boardroom | 30.0 |
| | U Shaped | 25.0 |
| Spectra Suite (26m² / 279.76ft²) | | |
| | Reception | 40.0 |
| | Banqueting | 20.0 |
| | Theatre | 20.0 |
| | Boardroom | 16.0 |
| The Foyer (331m² / 3,561.56ft²) | | |
| | Reception | 450.0 |
| | Classroom | 100.0 |
| | Banqueting | 200.0 |
| | Theatre | 200.0 |
| Wellington Ballroom (259m² / 2,786.84ft²) | | |
| | Reception | 550.0 |
| | Dinner/Dance | 150.0 |
| | Classroom | 120.0 |
| | Cabaret | 120.0 |
| | Banqueting | 200.0 |
| | Theatre | 150.0 |
| | Boardroom | 50.0 |
| | U Shaped | 25.0 |
| Wellington Ballroom Section 1 (68m² / 731.68ft²) | | |
| | Reception | 70.0 |
| | Classroom | 25.0 |
| | Cabaret | 25.0 |
| | Banqueting | 40.0 |
| | Theatre | 40.0 |
| | Boardroom | 25.0 |
| | U Shaped | 25.0 |
| Wellington Ballroom Section 2 (191m² / 2,055.16ft²) | | |
| | Reception | 200.0 |
| | Dinner/Dance | 120.0 |
| | Classroom | 100.0 |
| | Cabaret | 100.0 |
| | Banqueting | 150.0 |
| | Theatre | 130.0 |
| | Boardroom | 40.0 |
| | U Shaped | 30.0 |
| York (16m² / 172.16ft²) | | |
| | Reception | 30.0 |
| | Banqueting | 12.0 |
| | Boardroom | 8.0 |
London Hilton on Park Lane Facilities:
Accessible Communication Facilities

Audible alarm system


Accessible Venue Facilities

Assistance dogs welcome
Staff available twenty four hours


Access into the Building

Flat routes from parking area to entrance


Additional Accessible Facilities

Level access, ramp or lift to gym or leisure centre


Accessible Bedroom Facilities

Wheelchair accessible bedroom


Access Inside Building Facilities

Accessible lift
Steps with handrail within building


Booking Facilities

Cancellation policy
Group bookings accepted


Catering Facilities

Bar
Event catering
Halal options on menu
Kosher options on menu
Nut-free option on menu
Private dining
Restaurant
Set price menu
Vegetarian options on menu


Children Facilities

Childrens menu
Children welcome


Event Facilities

In house AV available
Available for wedding receptions
Breakout Rooms
Business centre
Conference rooms / Meeting rooms
Event facilities
Licenced for civil marriages
Venue can display vehicles inside
Wedding service


General Facilities

Guest lounge
Internet access
Ironing facilities
Lifts
On site parking
Safe
Good views


Leisure Facilities

Beauty treatment
Fitness centre
Sauna


Payment Facilities

Credit cards accepted
Debit cards accepted
Euros accepted
Group rates available
Traveller cheques accepted


Room Facilities

Air conditioning
Central heating
Daily servicing
Desk
Drink making facilities
Four poster beds available
Hairdryer
Minibar
Pay movies
Telephone
Television


Service Facilities

Concierge service
Currency exchange
Laundry service / Dry cleaning
Night porter
Room service
Twenty four hour reception
Wake up calls

London Hilton on Park Lane Location Map
Directions to London Hilton on Park Lane
Tube: Hyde Park Corner, Green Park
Find places of interest nearby:
London Hilton on Park Lane Contact Details
Address:

22 Park Lane
London
W1K 1BE

Tel:

+44 (0)20 7493 8000

Fax:

+44 (0)20 7208 4142

Email:

Web: