BMA House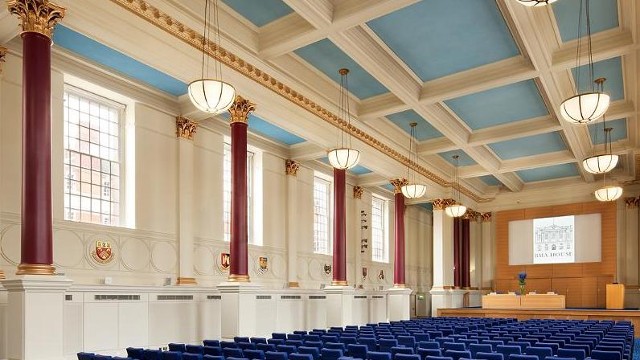 Venue Details
BMA House Overview
Located in fashionable Bloomsbury; BMA House is home to the British Medical Association. This stunning Grade II listed building underwent major refurbishment in 2008 to transform existing spaces into contemporary event spaces, whilst maintaining many of the features of their original Grade II listed heritage.
The house which has 23 meeting and event spaces also boasts a courtyard and garden, making it ideal for hosting summer parties.
Exquisite cuisine, fine wines and state of the art audio visual equipment ensure the success of all events.
BMA House Room Layouts
| Room | Style | Capacity |
| --- | --- | --- |
| Alexander Fleming (36m² / 387.36ft²) | | |
| | Boardroom | 12.0 |
| | U Shaped | 10.0 |
| Anderson Barnes Suite (153m² / 1,646.28ft²) | | |
| | Classroom | 24.0 |
| | Cabaret | 24.0 |
| | Theatre | 70.0 |
| | Boardroom | 28.0 |
| | U Shaped | 22.0 |
| Black Suite (178m² / 1,915.28ft²) | | |
| | Reception | 200.0 |
| | Classroom | 70.0 |
| | Cabaret | 77.0 |
| | Theatre | 150.0 |
| | Boardroom | 65.0 |
| | U Shaped | 52.0 |
| Christine Murrell Room (65m² / 699.4ft²) | | |
| | Classroom | 24.0 |
| | Cabaret | 24.0 |
| | Theatre | 60.0 |
| | Boardroom | 30.0 |
| | U Shaped | 24.0 |
| Council Chamber (162m² / 1,743.12ft²) | | |
| | Theatre | 97.0 |
| Courtyard Suite (160m² / 1,721.6ft²) | | |
| | Reception | 160.0 |
| | Classroom | 50.0 |
| | Cabaret | 64.0 |
| | Theatre | 120.0 |
| | Boardroom | 42.0 |
| | U Shaped | 36.0 |
| Douglas Black Room (102m² / 1,097.52ft²) | | |
| | Reception | 100.0 |
| | Classroom | 45.0 |
| | Cabaret | 42.0 |
| | Theatre | 100.0 |
| | Boardroom | 38.0 |
| | U Shaped | 30.0 |
| Edward Jenner Room (36m² / 387.36ft²) | | |
| | Boardroom | 18.0 |
| | U Shaped | 16.0 |
| Elizabeth G Anderson (45m² / 484.2ft²) | | |
| | Boardroom | 18.0 |
| | U Shaped | 14.0 |
| Garden Room (72m² / 774.72ft²) | | |
| | Reception | 90.0 |
| Great Hall (406m² / 4,368.56ft²) | | |
| | Reception | 320.0 |
| | Dinner/Dance | 170.0 |
| | Classroom | 120.0 |
| | Cabaret | 160.0 |
| | Banqueting | 200.0 |
| | Theatre | 300.0 |
| James Simpson (30m² / 322.8ft²) | | |
| | Boardroom | 14.0 |
| | U Shaped | 10.0 |
| John Snow (282m² / 3,034.32ft²) | | |
| | Reception | 150.0 |
| | Dinner/Dance | 80.0 |
| | Classroom | 60.0 |
| | Cabaret | 64.0 |
| | Banqueting | 100.0 |
| | Theatre | 100.0 |
| | Boardroom | 35.0 |
| | U Shaped | 28.0 |
| Joseph Lister (38m² / 408.88ft²) | | |
| | Boardroom | 12.0 |
| | U Shaped | 10.0 |
| Josephine Barnes Room (31m² / 333.56ft²) | | |
| | Boardroom | 16.0 |
| | U Shaped | 12.0 |
| Lister Flemming Suite (75m² / 807ft²) | | |
| | Classroom | 25.0 |
| | Cabaret | 28.0 |
| | Theatre | 45.0 |
| | Boardroom | 25.0 |
| | U Shaped | 20.0 |
| Lutyens Suite (280m² / 3,012.8ft²) | | |
| | Reception | 320.0 |
| Murrell Barnes Suite (104m² / 1,119.04ft²) | | |
| | Reception | 70.0 |
| | Classroom | 34.0 |
| | Cabaret | 35.0 |
| | Theatre | 95.0 |
| | Boardroom | 34.0 |
| | U Shaped | 28.0 |
| Prince's Room (108m² / 1,162.08ft²) | | |
| | Reception | 90.0 |
| | Classroom | 30.0 |
| | Cabaret | 48.0 |
| | Banqueting | 50.0 |
| | Theatre | 70.0 |
| | Boardroom | 30.0 |
| | U Shaped | 24.0 |
| Sir David Carter (38m² / 408.88ft²) | | |
| | Boardroom | 12.0 |
| Sir James Paget (216m² / 2,324.16ft²) | | |
| | Reception | 170.0 |
| | Dinner/Dance | 100.0 |
| | Classroom | 70.0 |
| | Cabaret | 80.0 |
| | Banqueting | 100.0 |
| | Theatre | 150.0 |
| | Boardroom | 65.0 |
| | U Shaped | 52.0 |
| The Courtyard | | |
| | Reception | 320.0 |
| The Dickens Room (52m² / 559.52ft²) | | |
| | Classroom | 20.0 |
| | Cabaret | 30.0 |
| | Theatre | 45.0 |
| | Boardroom | 25.0 |
| | U Shaped | 20.0 |
| The Garden | | |
| | Reception | 90.0 |
| William Harvey Room (102m² / 1,097.52ft²) | | |
| | Reception | 100.0 |
| | Classroom | 45.0 |
| | Cabaret | 42.0 |
| | Theatre | 100.0 |
| | Boardroom | 38.0 |
| | U Shaped | 30.0 |
BMA House Facilities:
Accessible Venue Facilities

Level access, ramp or lift to dining area
Level access, ramp or lift to restaurant or cafe


Accessible Communication Facilities

Audible alarm system
Clear signage (colour contrast, large letters or pictograms)
Hearing loop system


Accessible Venue Facilities

Assistance dogs welcome
Emergency evacuation procedures for guests with disabilities
Special dietary requirements catered for
Staff available to assist
Staff disability awareness trained


Access into the Building

Full, non-assisted wheelchair access
Ramps from parking area to entrance


Additional Accessible Facilities

Level access, ramp or lift from entrance to reception
Level access, ramp or lift to garden
Low reception or information counters


Access Inside Building Facilities

Accessible lift
Effective lighting throughout for visually impaired users
Lift with spoken announcements on arrival at each floor
Ramps within building
Some routes suitable for limited mobility users
Steps within building


Booking Facilities

Advance booking only
Cancellation policy


Catering Facilities

Event catering


Event Facilities

In house AV available
Available for wedding receptions
Breakout Rooms
Offers charity rates
Conference rooms / Meeting rooms
Event facilities
Licenced for civil marriages
Civil Partnership licence held
Raked or tiered seating offered
Trade vehicle access
Wedding service


General Facilities

Internet access
Lifts
On site parking
Wi-Fi access

BMA House Location Map
Directions to BMA House
Euston train & tube - 5 minutes walk
Kings Cross St Pancras train & tube - 10 minutes walk
Russell Square tube - 5 minutes walk
Find places of interest nearby:
BMA House Contact Details
Address:

Tavistock Square
The British Medical Association
Camden Borough
London
WC1H 9JP

Tel:

+44 (0)20 7874 7020

Fax:

+44 (0)20 7383 6645

Email:

Web: