London Accommodation Charter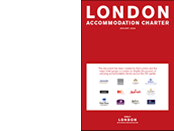 London & Partners has launched the first-ever London Accommodation Charter for the associations and corporate sector.
The London Accommodation Charter
The charter, designed to simplify the process of sourcing London hotel rooms for events that require 1,000 beds or more has been created by London & Partners' dedicated Association team. 
The team worked with 12 major hotel groups, which represent around 32% of the overall bedrooms available in London, to create the charter terms. The hotel group signatories include Accor hotels, Radisson Edwardian hotels, Millennium & Copthorne and Hilton, and represent more than 32,325 hotel bedrooms in the capital. Other hotel groups signed up to the charter include InterContinental Hotels Group, Marriott hotels, Park Plaza hotels, Travelodge, Premier Inn, City Inn, Hyatt Regency and Guoman.
Terms of the London Accommodation Charter
The Charter's agreement for the hotels include the following terms:
Standard allocation release times
Standard commission rates
Single/double room rates the same
Standard policy for no shows and cancellations
Standard check-in/out times
Standard complimentary room policy
The charter is an on-going document, and all hotel groups are encouraged to sign up. 
Download the London Accommodation Charter [PDF 133 KB]