Showcasing London at EIBTM 2012, stand G200
Imagine your next event in London - Visit the London stand G200 at EIBTM this November.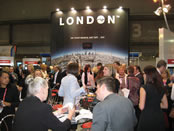 Following the success of the 2012 Olympic and Paralympic Games, there have never been so many compelling reasons for event planners to consider London. The city has shown that it can deliver events on an unprecedented scale, and a raft of new venues, accommodation and attractions have been developed. Improvements and refurbishments have taken place on existing venues, and the city is looking forward to some significant new arrivals next year.
London truly has seen a city wide change – if you thought you knew the city – think again.
Come and experience all that London has to offer, and find out about the latest developments on our stand G200 at EIBTM, 27-29 November 2012.
There has never been a better time to start planning your next event. Why not take the first step and book an appointment with our experts today?
With 31 stand partners, you can experience the diversity of London as an events destination. Our partners will showcase the best that city has to offer, from DMCs to football stadia and cultural institutions, to some of London's finest hotels and unique venues.
Hotels
Venues
DMC
Make an appointment with our experts today
Barbara Jamison, Head of Business Development Europe, and a team of London experts will be available to discuss your event objectives and provide the most suited event solutions. To find out more about the infinite universe of event possibilities, book your appointment through the EIBTM diary system or contact us directly.