Olympic and Legacy Venues in London
Plan your next event in London at one of the capital's new and improved venues.
The London 2012 Olympic and Paralympic Games delivered an array of new and improved venues to the capital. 
These "gifts of the Games" provide even more opportunities for event planners: Inspire your delegates in venues where world records were broken and medals won; take advantage of new and refurbished venues designed for visitors in 2012 and beyond; and motivate your team at some of London's top sports venues.
Olympic Park Venues
The Olympic Park, renamed the Queen Elizabeth Olympic Park in 2013, was the focus of the Games. Capture the atmosphere for your event at one of these unique venues:
Aquatics Centre: This striking venue hosted swimming, diving and synchronised swimming events. With moveable floors, the venue can be transformed for events, offering poolside gala dining for up to 500 people. Available from April 2014. Find out more [PDF 6.8MB]
Copper Box: With a capacity of up to 7,500 for sports events, cultural events, concerts, conferences and trade shows.  The Copper Box is a fantastic venue for hosting sporting activities ranging from training, to matches and tournaments form local to international level.  Available from August 2013
ArcelorMittal Orbit: The UK's tallest sculpture became one of the Games' most iconic sights. It's also set to become a dazzling space for corporate events, offering impressive views over the Park and beyond for up to 300 people. Available from April 2014
South Park Hub: Providing a large outdoor events space with 40,000 standing capacity, South Park Hub is perfect for concerts, outdoor shows and festivals. The Hub also boasts flexible event space for smaller events. Available from April 2014
North Park Events Lawn: Covering 12,000 sq m, the North Park Events Lawn is ideal for staging concerts, outdoor shows, large-scale festivals and cultural events. Available from 27 July 2013, the anniversary of the Olympic Opening Ceremony
New Developments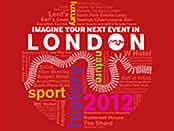 The Olympic Park isn't the only place where the Olympic effect can be felt. Venues all over London were involved with the Games by hosting sport or hospitality events, or launching or being refurbished in anticipation of being seen by the world. They are now ready and waiting to deliver more world-class events.
Find out more about London's new and improved venues, including luxury openings like South Place Hotel, the Shard and inspiring new East London destinations Aspers Casino and Aloft at ExCeL by downloading Imagine Your Next Event in London [PDF 4MB]
Contact us to plan your event in London.