London Business Confidence: FDI Barometer
The FDI Barometer is a long-term study which measures the confidence and sentiment of overseas-owned businesses in the capital.
Hundreds of overseas businesses have been interviewed by Ipsos MORI since 2009, tracking the changes in business confidence and opinion in the last 18 months.
The latest wave of research, conducted between February and April 2011, revealed:
90% of senior executives from overseas companies are satisfied with London as a location for their business
75% expect the Olympic and Paralympic Games to provide long-term benefit to the capital
Most respondents expected a rise in revenue and gross profits over the next 12 months
More than 70% of interviewees cited proximity to markets and customers as the key reason for their London presence
More About The FDI Barometer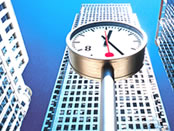 The FDI Barometer survey is conducted on behalf of London & Partners by Ipsos MORI three times a year, tracking movements in business confidence and changes of opinion amongst a sample of the capital's more than 20,000 overseas-owned companies.
The survey respondents are C-level decision makers with some responsibility for selecting and maintaining a company's location. Interviews were conducted over the phone. The results of the interviews are treated on an anonymous basis and the data is weighed by sector and country of origin to match the profile of foreign-owned businesses in London.
Every effort has been made to ensure that the survey fully represents the diversity of London's FDI in terms of sector, size and country of origin. Between 250 and 300 companies participate in each survey, representing an employment base in excess of 100,000 staff across the capital. Wave 4 interviewed 272 respondents from 21 February to 12 April 2011
Download The FDI Barometer
Read the results of previous FDI Barometers.