Sayers Butterworth is a six-partner firm focusing on providing a personal and friendly service at competitive prices.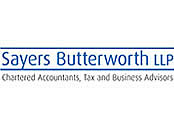 Sayers Butterworth LLP was founded in 1900. Our clients range from small start-ups through to listed companies, in the UK and overseas.
As founding members of an international network, we have been working with inward investment companies for almost 20 years, which means we understand the issues you face when expanding your business to the UK. Our tax specialists are also able to advice on expatriate tax and non-domiciled issues.  
Type of Company
Accountants, tax and business advisers
Client Services 
Company and branch registration
Registered office address
Outsourced payroll & HR services
Bookkeeping & VAT compliance
Accounts & tax services
Audit
Corporate finance
Business advice
Client Testimonials
"I would certainly recommend Martin and Sayers Butterworth. We have in the past 12 months purchased a business in the UK, and ran a ruler over several others. While the purchasing decision and negotiations are universal in their application on one hand, every country has areas that require resources on the ground to guide you through various differences in terms of law and commercial behavior/expectations."
"Martin has been invaluable in providing advice in terms of commercial negotiations, tax law, whitewash provisions, audit, pension regulation, and human resource management, together with sundry, more mundane items, such as building lease negotiations. The service provided is always timely, and in my experience he has always provided considered commercial advice which has been to our benefit."
Languages Spoken
Contact
Martin Dunne
Partner
18 Bentinck Street, London, W1U 2AR
Tel: +44 (0) 20 7935 8504
www.sayersb.co.uk   
This content was provided by Sayers Butterworth LLP.
Contact us to receive a free introduction to Sayers Butterworth LLP and find out more about how Sayers Butterworth LLP can help your business set up, succeed and grow in London.