Maine-Tucker Recruitment is a boutique consultancy specialising in Secretarial, HR, and Sales and Marketing recruitment.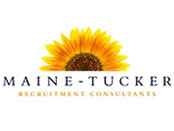 Based in  the West End and the City of London, Maine-Tucker has been established for 25 years and is one of the oldest and most respected names in the industry.
We work with a range of clients from start-ups to multi-nationals; and have a wealth of experience to offer. We are dedicated to sourcing individuals of the highest possible calibre at a competitive price, in an organised and professional manner, and provide a range of support roles to our clients as a bespoke service based on their specific needs. Our 100% refund guarantee and "no hire, no fee" policy highlight the quality and values clients trust in, year after year. We specialise in Secretarial, HR, and Sales and Marketing roles and can also offer Financial recruitment through our sister company, Strictly Finance.
Close client relationships are paramount to us, and it is imperative that businesses based in London, and coming into London, engage with a recruitment partner who works in collaboration with them to ensure a commercial advantage. A truly consultative relationship will actually make money for businesses and we will continue to strive to provide the best service with air tight guarantees for our clients. We provide numerous additional services; our annual Salary Survey is one of them. This supports and guides our clients through important business decisions and strategy. It gives a real insight into staffing salary levels, and benefits/holiday packages, giving a competitive edge over other businesses. We are always on hand for any advice our clients may need.
We also host quarterly Employment Law Forums for our clients, keeping them up to date on all current legislations. Alongside our lawyers, we present relevant workshops and give clear, comprehendible advice on a range of topics.
Type of Company
Recruitment
Client Services 
Experience in assisting national and international companies
Experience assisting companies across a multitude of sectors 100% refund/replacement guarantee
No hire, no fee policy
Permanent recruitment
Contract recruitment
Temporary recruitment
Vast candidate network
Job specification assistance (advice and creation)
On-site interviewing facilities
Invitation only and face-to-face candidate screening
Full candidate testing and vetting (IT skills, psychometric tests, references)
Instant contact with client and candidate throughout the entire process
Complimentary annual salary survey
Tri-annual employment law forums
REC members; provide year-round advice
Charity/start up fees
Information on all UK employment law issues including the new Agency Worker Regulations
Advice on UK Employee and Employer Tax and Payment process
In-depth analysis into the entire recruitment process including salary benchmarking, employee benefits expectation and advice on job description creation
Quarterly Employment Law seminar, keeping clients up to date
Languages Spoken:
Client Testimonials
"Maine-Tucker helped us with recruiting our first team member for our new UK office. They really understood the type of sales person we were looking for quickly, and their follow up and coordination during the interview process was both helpful and professional. Maine-Tucker are now looking for our second team member" October 13, 2011
CEO at Mister Clipping
"Maine-Tucker were a great help when opening our new London Offices. We had a lot of positions to fill and each position had several specific requirements. Maine-Tucker were able to find us the perfect people very quickly. We would use them again and we continue to recommend them highly."
Tim Hentschel, Hotelplanner.com
"Maine-Tucker assisted me in more than one occasion to find the right candidates for my team. They go out of their way to find out things beyond the obvious job description including the company culture and the underlying job scope to get the best people first time"
Nindia Riphat, Office Manager, ZIP Heaters
Contact
Tom Glover
Senior Consultant
Greener House, First Floor, 66-68 Haymarket, St. James's, London, SW1Y 4RF
T: +44 (0)207 734 7341
E:Tom.glover@maine-tucker.co.uk
Kalpna Bhatia
Managing Consultant – City
9 Devonshire Square, London, EC2M 4YF
T: +44 (0)207 887 2278
E: Kalpna.bhatia@maine-tucker.co.uk
This content was provided by Maine-Tucker.
Contact us to receive a free introduction to Maine-Tucker Recruitment and find out more about how Maine-Tucker Recruitment can help your business set up, succeed and grow in London.