M Moser Associates is a global firm specialising in the architecture, engineering, interior design, and delivery of corporate workplaces. Clients range from multinational companies and financial institutions to privately-owned businesses.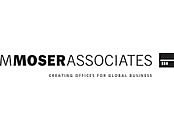 Our global teams of multi-national, multi-lingual professionals, bring to each project international experience in design and engineering complemented by local experience in construction. A broad understanding of each client organisation's requirements is maintained on a regional basis through a virtual network linking all our locations, assuring the client that corporate objectives, criteria and standards are consistently met in each project.
M Moser's 650+ staff includes experienced planners, interior designers, architects, engineers, IT specialists and construction professionals. Founded in 1981 - and in 17 locations worldwide - the company currently operates in Bangalore, Chengdu, Beijing, Delhi, Guangzhou, Hong Kong, Houston, Irvine, Kuala Lumpur, Mumbai, New York, Seattle, Shanghai, Shenzhen, Singapore, Taipei and of course London!
Type of Company
Office fit-out
Client Services
Strategic facilities planning
Due diligence
Architecture
Inside-out design
Project management
Interior design and planning
Sustainable design
Procurement and construction
Building services
Engineering
Information technology systems migration
Client Testimonials
"You have shown that your work layout and quality understanding is tailor-made to our needs and agreed service support level standards'"
Mario Libonati, Clearstream International
"We were particularly impressed with your creative design ideas which totally transformed the reception area and greatly enhanced the working environment for our staff."
Cathy Devlin, Circle Anglia
"M Moser worked tirelessly in providing us with creative, crisp and cost effective ideas on the aesthetic details."
Danni Roberto, Appleby
"The team worked with us on the big picture, creating a layout that works for today and future growth as well as identifying appropriate space for support functions."
ACA Capital, Laura Schwartz
Languages Spoken
Cantonese
Italian
Mandarin
Norwegian
Russian
Spanish
Swedish
Contact
Nathan Wroughton
Associate Director, M Moser Associates Ltd
Peninsular House, 30 Monument Street, London EC3R 8NB
Tel: +44 (0)20 7257 8550
nathanw@mmoser.com
www.mmoser.com
This content was provided by M Moser Associates.
Contact us to receive a free introduction to M Moser Associates and find out more about how M Moser Associates can help your business set up, succeed and grow in London.