La Playa provides expert insurance consultancy, insurance broking and risk management solutions, as well as independent financial advice – always tailored to reflect individual needs.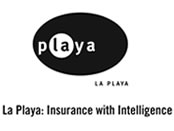 An award-winning independent, specialist broker based in the UK and USA, La Playa works with a broad range of people and organizations engaged in a diverse range of industries, including science, technology, media and the arts.
As a specialist, La Playa understands the complex risks, tangible and intangible, associated with a range of high-growth technological and creative industries, including life sciences, ICT & cloud computing, electronics, emerging tech, digital media, publishing, PR & advertising, design, marketing, gaming, social & digital media, film & TV production - keeping abreast of the shifting sands of  risk, regulation, legislation and compliance.
We'll undertake a full appraisal of the insurance implications of setting up shop in London, then designing a bespoke insurance portfolio and risk management plan to provide the very best protection for your business, within a sensible budget. We'll also work with employees transferring into London, protecting their families, assets, valuables, vehicles and investments.
Type of Company
Bespoke insurance products, risk management advice, benefits packages and an in-house financial management service.
Client Services
The complete soft-landing insurance service
Independent, professional advice across all categories of commercial and private client insurance
Specialist insurance products, tailored to individual need
Full risk management services, including surveys & valuations
End-to-end claims management services
Disaster recovery planning services
Employee benefits & investment products
International insurance harmonization service
London & Partners' Client Offer
Free advice & reports – advising you on the insurance implications of doing business in the UK and helping to harmonize your international insurance arrangements
Access to specially negotiated terms for niche products
Access to La Playa's key international insurance partners – specific sector expertise
Free expert risk management consultancy
A range of discounted added-value benefits
Free information & white papers on topical issues
A single point of contact for all your insurance needs
Client Testimonials
"We've been putting off our insurance needs for far too long, and I feel we are now in safe hands." Martyn H, Redd & Whyte
"As always we come away thinking how lucky we are to have found La Playa and the people we deal with there - bet there's not many that can say that about their insurance company." Annette B, Company Secretary, ICT
"An innovative leader in providing insurance solutions to technology businesses." Michael B, Venture Capitalist
Languages Spoken
Contact
Elaine Redington, Senior Account Executive
La Playa, 60 Cannon Street, London EC4N 6NP
T: +44 (0) 20 7002 1541
M: +44 (0) 7771 528092
elaine.redington@laplayainsurance.com
http://www.laplaya.co.uk
This content was provided by La Playa.
Contact us to receive a free introduction to La Playa and find out more about how La Playa can help your business set up, succeed and grow in London.