Kingston Smith is a top 20 accountancy firm with 60 partners spanning seven offices across London and the South East.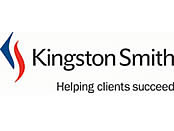 The Kingston Smith Group supports entrepreneurial businesses, private individuals and not-for-profit organisations with specialist expertise in the property, professional firms, marketing services and TV/media, manufacturing, healthcare, entertainment, and sport industries.
In our competitive and ever-changing world, getting the right advice when you need it often marks the difference between success and failure. The Kingston Smith ethos is to help clients succeed in your commercial and financial goals. We offer the broad spectrum of services often associated with a large practice, combined with the personal approach of a small firm. We have accumulated valuable business experience and aim to provide a fresh and individual approach to our work.
Type of Company
Chartered accountants
Client Services
Most of our commercial client businesses are managed by people who own them. Through our many years experience of dealing with owner-managed businesses, we understand how entrepreneurs think and the stages in which their businesses develop.
As a result, in addition to audit and accounting work, we have built up a wide range of specialist services to support you as your business grows and develops. We have developed significant experience in supporting growing businesses through every stage of their development. To do so, our partners formulate a deep understanding of the marketplace and environment in which each client operates.
Audit
Corporate finance
Financial services
Tax and legal consultancy
VAT and duty planning
Payroll
Regulatory services
Corporate and business tax
Personal tax
Company secretarial
Management accounts and bookkeeping
Recruitment
HR consultancy
India Desk
We at Kingston Smith have acted for a range of Indian businesses from start-ups and SMEs through to the large multinational corporations, for over two decades. Some of India's leading business houses and many of India's top IT firms have found Kingston Smith to be a professional and truly value-adding business advisor, able to work closely with them to enable the achievement of their business objectives in the UK. We also work closely with the CII, NASSCOM and FICCI trade associations both in India and the UK.
Languages spoken
Afrikaans
Czech
Farsi (Persian)
French
German
Gujarati
Hindi
Punjabi
Romanian
Slovak
Spanish
Swahili
Tamil
Welsh
Client Testimonials
"In my experience, Kingston Smith has a comprehensive understanding of the position of individuals who are owner/managers of family businesses. Consequently, they have assisted far beyond the day-to-day business activities and helped in a variety of key areas such as tax planning, pensions, and strategic planning for the business.  I like the close, professional working relationship with individuals at Kingston Smith. It reassures me that they fully understand my circumstances and aspirations. Their avoidance of jargon is also refreshing and again makes for better communication and understanding."
Bernard Nelligan, Managing Director, S.L.E. Ltd
"We choose to work with Kingston Smith because they combine a professionalism and attention to detail with a friendly approach. We have an excellent working relationship with them and they have made a real effort to understand the context in which we work and what is important to our business needs. Their detailed knowledge of our practice has frequently helped us to identify problems (and solutions) in our own business. The Kingston Smith team are not just focused on numbers – they genuinely work in partnership with us to help us to achieve our business objectives."
Ken Winberg, Practice Director, Edwards Duthie Solicitors 
Contact
Chris Lane
Partner
Chandru Iyer (India desk)
International Business Development Manager
Devonshire House, 60 Goswell Road, London, EC1M 7AD
Tel: +44 (0) 20 7566 4000
www.kingstonsmith.co.uk 
This content was provided by Kingston Smith.
Contact us to receive a free introduction to Kingston Smith LLP and find out more about how Kingston Smith LLP can help your business set up, succeed and grow in London.