Avanta was formed in 2004 and offers highly flexible, unbranded office space, with advanced and competitively priced technology, tailor-made to meet the requirements of the occupier.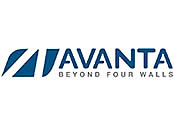 All centres offer a variety of meeting rooms, Wi-Fi–equipped communal areas and a team of highly trained centre staff. In the UK the company currently manages 18 business centres, the vast majority of which are located in prime areas of London. Avanta has started its international expansion with three centres now open; one in New Delhi and two in Mumbai.
Type of Company
Serviced office providers , meeting rooms
Client Services
Fully-equipped serviced offices in various sizes
State-of-the-art technology backbone 
Highly trained centre team on hand to help with your business requirements
VoIP phones with free landline calls and discounted cell / international rates
Variety of meeting rooms, available to book by the hour
Business services packaged together in a transparent, monthly fee
24/7 access
Manned reception during office hours (Mon - Fri, 8.30am - 6pm)
Simple license with fast occupation
Wi-Fi equipped communal areas
Highly trained centre team to help with meeting room bookings (including layout and catering), secretarial work etc
Prime locations throughout London
Client Offer
You can get down to business immediately with our offer of a free desk for up to 12 months and a subsequent 25% discount on any preferred London centre within the Avanta London portfolio (subject to availability).
Touchdown London is a start-up service dedicated to businesses who wish to establish themselves in London. It has been created, and is managed, London & Partners, and is hosted by Avanta. 
Download the Touchdown London brochure [PDF 2MB]
Client Testimonials
"Of all the higher-end serviced offices in West and South West London that we viewed, Avanta stood out as clearly the best option –  friendly staff that go out of their way to help our business progress, good location, great transport links and an aesthetic interior."
"We are very pleased with our office space in Avanta. The convenience of its location and great facilities continue to impress both our staff and visitors. The staff at Avanta are friendly, helpful and are always willing to go out of their way to assist with any request. We regularly take advantage of the administrative services on offer and the convenience of the onsite boardroom; these services have proved to be both useful and cost effective for our organisation."
Languages Spoken
Contact
Avanta Touchdown Representative
1 Lyric Square London, W6 0NB
Tel: +44 (0) 203 008 6000
info@avanta.co.uk
www.avanta.co.uk
Contact us to receive a free introduction to Avanta and find out more about how they can help your business set up, succeed and grow in London.