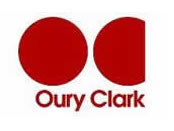 Oury Clark Solicitors was founded in 1997 by James Oury who is a dual qualified Solicitor and Chartered Accountant. He is a partner in both Oury Clark Chartered Accountants and in Oury Clark Solicitors.
Based primarily in central London, the firm has a corporate and commercial focus and consists of 4 partners, led by Juliet Oury the Managing Partner. It provides specialist advice in a wide variety of legal areas to an impressively diverse range of clients based both in the UK and overseas.
Thanks to its close links with Oury Clark's other associated businesses, it is ideally placed to provide clients with a uniquely integrated service.
Oury Clark Solicitors is also well-known for its pro bono work, having won and been nominated for several awards.
Legal work covered:
Corporate & Commercial
Employment
Property
Immigration      
Client Services
Oury Clark has an extremely diverse client base ranging from family work to large corporations. Over the last few years we have developed a "Market Access Service" for life sciences companies.
Languages Spoken
French
Spanish
German
Afrikaans
Gujarati
Hindi
Punjabi
Contact
Juliet Oury, Managing Partner
Oury Clark Solicitors
10 John Street, London, WC1N 2EB
T: +44 (0) 207 067 4300
F: +44 (0) 207 067 4301
Juliet.oury@ocsolicitors.com
www.ouryclark.com
This content was provided by Oury Clark Solicitors.
Contact us to receive a free introduction to Oury Clark Solicitors and find out more about how Oury Clark Solicitors can help your business set up, succeed and grow in London.