Oury Clark Chartered Accountants
Oury Clark specialise in helping businesses set up in the UK, assisting entrepreneurs and advising family offices.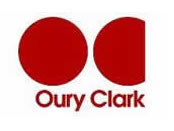 Oury Clark Chartered Accountants were founded in 1935 by Walter H Oury, father of Richard Oury, in Eton, in the South East of England, close to Heathrow airport and 15 minutes from London.
Today we still operate primarily out of our Thames Valley office. The practice has dedicated considerable time and resources to build a unique package that pushes the boundaries of professional services, making it easier and more cost effective for international businesses setting up operations in the UK.
Our close ties with our associate firms enable us to offer a huge breadth of services and expertise to both large and small companies.
We specialise in helping businesses set up in the UK, assisting entrepreneurs and advising family offices. We are a truly unique and boutique firm delivering services to the highest standards whilst keeping commerciality and efficiency at the core of our philosophy.
Accountancy work covered:
Company Structure Advice
Incorporation
Audit
Personal taxation
Accounts & Corporation Tax
Book keeping
VAT
Payroll
Credit Control
Insolvency
Type of Company
Accountants
Client services
Oury Clark has an extremely diverse client base ranging from family work to large corporations. Over the last few years we have developed a "Market Access Service" for life sciences companies.
Overseas territories
Our partners travel extensively in the USA, Canada, Iceland, Sweden, Norway, Finland, Netherlands, Portugal, Australia and New Zealand. India, Mexico, Chile and Columbia will also be destinations for trips in 2013. We also have an Accountant based in Spain.
Languages spoken
French
Spanish
German
Afrikaans
Gujarati
Hindi
Punjabi.
Contact
Ian Friend ACA, CTA
Oury Clark Chartered Accountants
Herschel House, 58 Herschel Street, Slough, SL1 1PG
T: +44 (0) 1753 55 1111
F: +44 (0) 1753 550544
ian.friend@ouryclark.com
www.ouryclark.com
This content was provided by Oury Clark Chartered Accountants.
Contact us to receive a free introduction to Oury Clark Chartered Accountants and find out more about how Oury Clark Chartered Accountants can help your business set up, succeed and grow in London.