Cyber-Duck is an independent, award-winning digital agency with a world-class reputation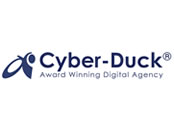 Established in 2005, Cyber-Duck is an independent, award-winning digital agency with a world-class reputation. The company works with global brands including The European Union, Imperial Tobacco PLC, NordicBet, Wilmington Publishing PLC, BAM, Jewson, Arsenal FC and The Gadget Show.
Type of Company
Digital Agency
Specialist Areas
The agency's core skills can be broken down into the following five services:
Web & Mobile – best-in-class custom adaptive web design so websites, apps and applications work seamlessly on desktops, tablets and smartphones while also delivering native iOS and Android apps. This is achieved by an industry leading (UCD) user centred design process
SaaS Technology –using an agile (Scrum) develop process and leveraging the latest frameworks like node.js and HTML5 and cloud hosting capabilities, Cyber-Duck produces scalable SaaS including bespoke ecommerce, intranet portals, and custom CRM dashboards increasing business productivity
Branding - award-winning brand strategists, copywriters, art directors, animators and videographers deliver outstanding creative solutions allowing clients to immerse their customers in brand loyalty no matter where they are
UX Consultancy – working with corporate and government organisations and technology start-ups Cyber-Duck steers projects in the right direction via stakeholder interviews, state-of-the-art eye tracking and user-testing incorporating focus groups, competitor analysis and web analytics
Marketing – by strategically working with clients, Cyber-Duck offers consultancy for Social Media, SEO, PPC, A/B Tests, viral marketing and CRM/email marketing whilst offering hands-on retainers
Cyber-Duck has won some of the most sought after industry awards including Webby Awards, Horizon Interactive Awards, the Davey Awards, the Communicator Awards, the Interactive Media Awards, the W3 Awards, the Europrix Top Talent Awards and the Construction Marketing Awards.
Client Services
Website Production
Mobile App Production
SaaS (Software as a Service) / Application Development
Branding
User Experience Consultancy
Marketing
Social Media Consultancy
Digital Consultancy
Eye Tracking
IT Strategy
Hosting
Focus Groups
Workshops & Tutorials
London & Partners' Client Offer
Cyber-Duck are offering a free review of the Client's website and branding paying special attention to its suitability for the UK Market.
Languages spoken
English
French
German
Italian
Spanish
Taiwanese
Chinese
Russian
Hebrew
Urdu (Pakistani)
Polish
Hindi
Client Testimonials
"Working with Cyber-Duck was very dynamic and creative. I always felt they really cared about the project." Antonia Mochan (Head of Communication) – The European Commission

"It's been an extremely busy time for the whole team here at Liberty Wealth and we were thrilled to have chosen Cyber-Duck as our dedicated digital agency who helped us every step of the way and ensured the smooth launch of the new website. We now have an online brand presence and one that exceeds the offerings of competitors in our industry so we're extremely pleased" Iain MacRitchie (Managing Director) – Liberty Wealth Management

"The new website for Arsenal Double Club's languages programme is fantastic. We are hoping that it will lead to many more schools signing up to the scheme." Samir Singh – Arsenal

"The selection process for web designers 7 months ago was a harrowing affair, with much soul searching and fingernails bitten to the quick. The Far Horizons are extremely pleased (and relieved!) that we went with Cyber-Duck… the site is a triumph, and ticks all the boxes and more. The Far Horizons look forward to a fruitful relationship going forward for both companies." Patrick Shah (CEO) - The Far Horizons

"Cyber-Duck offered the right level of support and advice to help us understand the best way to develop our brand online." April Hatcher (Marketing Manager) - Essex Governors & Services
Contact
Siji Onabanjo – Strategy Manager
Elstree House, 12 High Street, Elstree, Herts WD6 3EP
Tel: +44 208 953 0070
M: +447429753713
info@cyber-duck.co.uk
www.cyber-duck.co.uk
This content was provided by Cyber-Duck Ltd.
Contact us to receive a free introduction to Cyber-Duck Ltd and find out more about how Cyber-Duck Ltd can help your business set up, succeed and grow in London.