Working with overseas businesses is a core strength of Alliotts, and we have many years of experience helping companies set up and do business in the UK.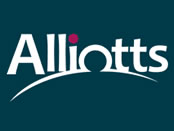 Accounting, business and tax services to help overseas businesses maximise their investment in the UK.
If you're setting up in the UK you need experienced business advisors that can offer you essential start up support. Once you're up and running you need practical help to run your UK operation efficiently. Finally, your business will benefit from strategic tax advice to ensure it is properly structured for future growth or acquisition.
Working with overseas businesses is a core strength of Alliotts, and we have many years of experience helping companies set up and do business in the UK. Our international clients range from niche start ups to multi site global retailers.
Our clients operate in a wide variety of sectors, from IT to private equity, but many of the challenges they face are the same. We offer expert support to help our clients in these key areas:
To quickly grasp a practical understanding of HR, payroll, accounting, company registration and  tax obligations in the UK
To smooth out the process of dealing with these issues for both the parent company and local staff
To set up the right accounting, payroll and tax procedures and reporting to support future business growth
To assist with acquisition strategies, finding targets, due diligence and the deal process.
Local presence, global perspective
As part of our commitment to assisting international clients we founded Alliott Group, a worldwide alliance of independent accounting, law and consulting firms. The group has grown to include 160 members in 70 countries and is ranked 14th largest of its type worldwide. This allows us to either provide, or replicate services in other countries and we are experienced in carrying out such multi territory assignments. Alliotts dedicated China and Hong Kong Team are experts in providing compliance and business advisory services to Chinese businesses. Our team of specialist advisors is headed up by Jon Luk, who has 35 years of experience of providing tax advice and audit and accounting services that help Chinese businesses thrive in the UK and worldwide.
Type of Company
Independent firm of chartered accountants, business advisors, outsourcing providers and tax specialists that has been providing services to clients for over 140 years.
Client Services
Working with Alliotts guarantees partner involvement at every stage.  From routine financial functions to ad hoc specialist assignments, we offer a highly personalised service that delivers real value to our international business clients. 
Excellent communication between our teams (e.g. accounting, tax and payroll) means that clients only need to supply information once, and our teams liaise to ensure that records are up to date and accurate.  Located in one central London office, makes communication straightforward.  Partners have access to all of the necessary information so that they can give you valuable advice, knowing the whole picture, whenever you need it.  It is a 'hands on' and proactive service specifically tailored to meet the need of international businesses and it includes:
Entity Establishment
Advice on trading vehicles – branch or subsidiary?
Company formation
Registrations
VAT application
PAYE scheme set up
Corporate Tax Registration
Bank Accounts
Payroll Services
Payroll calculations and production of payslips
BACS approved Bureau - payment of employees' pay directly into bank accounts and PAYE and National Insurance Contributions directly to HMRC
Submission of end of year returns to HMRC
Completion of forms P11d (Return of benefits and expenses)/P11d dispensations
Accounting Services
Book keeping including online accounting, web based access to financial data 24/7
Management reporting/KPIs
Virtual FD
Completion of VAT Returns
Statutory Accounts – including IFRS compliant
Our clients appreciate being able to outsource some or all of their accounting functions to us. We know that it is not always feasible for businesses setting up in the UK to recruit a full time employee for the role, yet regular management reporting in line with the parent company's format is required. Our flexible, responsive and cost effective services have been created with the needs of our international clients in mind. Our team is experienced in a variety of accounting packages and can readily adapt to working with bespoke systems.
We also provide the following services:
Audit Services
Completing statutory audits
Tax Services
Corporation tax – preparation and submission of tax computation and return
Transfer pricing advice
Personal tax – preparation and submission of tax returns
VAT advice
Human Resource Management
Contracts of employment
Policies and procedures
Training and development
Mediation and dispute resolution
Fraud Prevention Services
Developing policies and procedures to reduce exposure
Company Secretarial
Maintaining the statutory records
Completion and filing of forms at Companies House
Drafting Minutes
Provision of registered office
Financial Planning Advice
Advising on company pension schemes and life assurance
Key man insurance
Corporate Finance – acquiring in the UK
Finding/researching targets
Mergers and Acquisitions
Due Diligence
Corporate Structure
Languages Spoken
Mandarin
Cantonese
Malay
French
Italian
Spanish
Bulgarian
Russian
Turkish
Gujarati
Punjabi
Hindi
Afrikaans
Tamil
German
Client Testimonials
"We chose to work with Alliotts on entering the UK as they were recommended to us by one of our other professional advisors.  We were impressed with the services that we received. As we expanded within Europe, with new offices opening in Paris and Frankfurt, we had no hesitation in using other Alliott Group members to provide back office support to our new operations.  This arrangement has worked well in that we have been able to rely on them to look after our accounting, payroll and tax matters locally.  We now have a long standing relationship with a number of Alliott Group members which has been centrally managed through Alliotts as the Group's London based member.  I would happily recommend using Alliotts and Alliott Group to any business with multi-jurisdictional operations. Whilst  Alliott Group offers international reach, its members, such as Alliotts provide the local expertise that is vital when entering a market for the first time." London FD of leading US private equity firm
"One of the key benefits, which my company and I have found from our association with Alliotts has been the access they have to a worldwide alliance of affiliated firms, who are able to assist with local legislation and accounting knowledge, and the close interest that these firms have taken in the progress and development of our business.  Alliotts and the Alliott Group member firms we have used to date have been instrumental in helping Unibet develop into an international group. On this journey Alliotts have been, and still remain, highly appreciated and very valuable advisors." Anders Strom, founder Unibet Group Plc [Internet Gaming]  
"I just wanted to say a big thank you to your team. The payroll service you provide is excellent." Jon Ward, Managing Director, Severn Consultancy (UK) Ltd
"We were concerned about the constantly changing Employment Law regulations. Despite our best endeavours, we felt that perhaps there may have been some "slippage" with our employment contacts and procedures. We already use Alliotts payroll service and are very happy with the service we receive.  The next logical step was to call in the services of the Alliotts HR Manager to perform a health check of our personnel policies and procedures. Rosemary Mashford spent almost a week with us. She provided a professional, but friendly approach to understanding our business requirements, our staffing hierarchy and our culture. She worked with my PA to provide a Statement of Main Terms and Conditions and Company Handbook tailored to our needs.  Following her visit, Rosemary produced a timely and thorough report, which is proving to be a very useful working document, and we intend to implement the recommendations contained therein as soon as possible. I suspect we may be calling Rosemary back to assist us!" Nick Dawson, Managing Director, Bilfinger Berger BOT Ltd [Construction]
These are just a few client testimonials to give a flavour of the services that we provide and the benefit to clients.  If you would like to speak to us about how we can help you set up and running a UK operation please contact us.
Contact
Sudheer Gupta, Partner and Head of Outsourced Services
Imperial House, 15-17 Kingsway, London, WC2B 6UN

sudheer.gupta@alliotts.com
+44 (0)207 759 9313
www.alliotts.com    
This content was provided by Alliotts.
Contact us today to receive a free introduction to Alliotts and to find out how they can help you set up, succeed and grow in London.