Microsoft were looking for a European centre for their Search Technology Centre. London & Partners helped them compare locations, examine the industry and tap into London's talent pool. Microsoft set up in London in 2009.
Company:

Microsoft

Sector:

HQ:

London Location:

London & Partners Services:

London & Partners helped by providing business intelligence, with talent pool analyses, recruitment, and visa assistance

Website: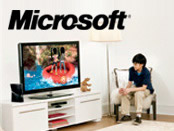 Business Aim: Find a European Location
In spring 2008, Microsoft announced plans to open a Search Technology Centre (STC) in Europe, designed to develop search personalisation and localisation products. It needed to evaluate the most promising cities and make a decision on exact locations.
London & Partners Services
Industry insight: R&D and software trends and clusters, moveability, convergence
Comparison data for competing locations
Talent pool analysis
Business Success in London
Microsoft opened its Search Technology Centre in London in January 2009. The centre specialises in user experience – working out improvements to layout, display of results and homepage; search verticals such as news, images, and video; and delivering instant answers to popular searches.
The London centre is Microsoft's largest European search centre, working closely with sister bases in Munich and Paris. Employee numbers are expected to reach several hundred across Europe in the next five to 10 years, of which a significant percentage will be in London.
Microsoft Interview
Jordi Ribas, General Manager of the Microsoft Search Technology Centre, Europe explains why they set up in London and how London and Partners helped.
Working with London & Partners and UKTI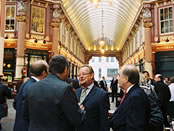 "My team has been working with London & Partners from the very start, when we first looked into finding sites across Europe for our Search Technology Centre. It's been very productive since then. London & Partners was obviously hungry for us to come to the UK capital. We met with their San Francisco office at a networking event in Silicon Valley, California. Then in Paris in 2008, we announced our plans for a European presence. London & Partners attended this briefing and met with senior executives driving the project.
"London & Partners provided us with several services, some strategic – such as helping us understand the talent pool and industry landscape – and some tactical, for example, helping with visa applications to bring people from the US into London. We've also interacted with UK Trade and Investment (UKTI).
"Much like London & Partners, they provided us with very good advice throughout the process of setting up our presence in London. UKTI have specialists who focus on R&D and who really understood our language. London & Partners and UKTI have been working together and collaborating with us, helping us attract the right type of talent and find the right sites within London. We look forward to working with both London & Partners and the UKTI in the future."
Why London?
It's critical for an organisation like ours to be able to tap into the best talent and some of Europe's leading universities are here in London.
"We evaluated many cities and London made the shortlist based on multiple factors. London is definitely an important city in terms of search. That's down to the breadth of internet development and technologies, and the maturity of the UK market.
"The UK search market represents about 30% of the European market so it's definitely the most important territory. It's also important in understanding the whole landscape of search in Europe. There are a lot of top companies that focus on software and services in London. All of our top search competitors are here – they have important hubs in London for the same reasons that we selected the city.
"Another key factor was the availability of top talent. It's critical for an organisation like ours to be able to tap into the best talent and some of Europe's leading universities are here in London. We focus on people that have masters or PhD degrees in machine learning or similar technologies and there are excellent colleges in London, for example, Imperial College, University of London."
The 2012 Factor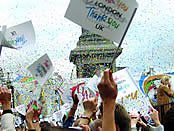 "I believe that the Olympics are going to make a major impact in London. I am from Barcelona and when we held the Olympic Games in 1992 they completely revolutionised the city in terms of exposure to the world. The Games present a chance to market a city. It's an opportunity for billions of people to understand what London has to offer."
Expanding in the Downturn
"The current economic climate is challenging everywhere. It's very hard to predict which cities or countries are going to be doing better than others. But the building blocks of an economy are talent, creativity, innovation and competition. Being in London is definitely a plus because you can access these fundamentals here. There are some things that are very important for companies to get through in difficult economic times and the availability of talent is one of them."
The Future in London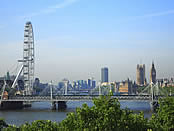 "We are excited to be in London. We foresee significant growth in the next five to 10 years in the internet businesses in general and in particular with search. There's a real need to innovate and compete. We see our organisation growing significantly. Hopefully with all the talent in the city and the UK we will be able to improve the search experience of users significantly."
Contact us to find out how we can help you set up your business in London.