Aspire Systems Case Study
Aspire Systems, an India-headquartered software company, wanted to become a truly global player. With help from London & Partners, including free office space, it set up a European HQ in London, giving it direct access to the continent's burgeoning IT market.
Company:

Aspire Systems

Sector:

HQ:

London Location:

London & Partners Services:

Business registration and set-up; visa advice; free office space through Touchdown London; market analysis; advice on personal accommodation

Website: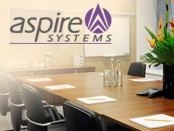 About Aspire
Founded in Seattle in 1996, Aspire is a leading outsourced product development firm with 500-plus staff in India, the United States and now London. Its services range from product development and advancement to product migration, re-engineering and support. 
Business Aim: Break into the European Market
Having built successful businesses in the US and Asia, Aspire sought to become a global company by breaking into the European market. It set its sights on London, home to more than 20% of Europe's independent software vendor market.
London & Partners' Services
Legal and operations: business registration and practicalities of set-up
Visa guidance: advising on the visa application process
Office location: Touchdown London Hammersmith
Market analysis: current and future European software trends
Staff accommodation: how to find flats and houses in London
Touchdown London
The Touchdown London offer was a wonderful thing. It was a really useful and very obvious offer to take. It gave me exactly what I needed and removed the hurdles, such as going out and searching for a suitable office for myself.
Touchdown London allowed Aspire Systems to use subsidised office space in a prime West London location. The firm could focus on generating prospects and revenue from day one. 
Aspire Systems opened its London base in summer 2009. By the end of the year, the company had acquired two major clients.
Aspire Systems Interview
Prem Sundaravadanam, Aspire Systems Regional Director (UK), explains how Touchdown London enabled Aspire Systems to quickly set up in London: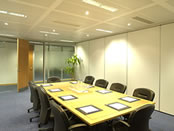 "Touchdown has saved me months of time…and allowed me to focus on the business. It's provided an office space that was already set up in terms of furnishings, telephone and internet. It's got everything that I would expect from a good business office at a great price. 
"London & Partners put us in touch with the right people…helped with the registration process…provided intelligence on the market…They made it so easy.
"It's also put us among people that have the same kind of challenges that Aspire is facing; companies that are in the same set-up phase in London. It's great for networking and discussing issues."
First Steps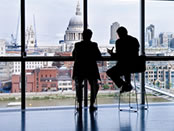 "London & Partners and UK Trade & Investment (UKTI) are two organisations that I would speak to when looking to set up business in the UK and London. 
"We didn't quite realise the amount of work that we would have had to do but they made it so easy for us. It's difficult to quantify but it's a wonderful service."
How London & Partners Helped 
"I contacted UKTI who put us in touch with London & Partners. Both have been extremely helpful in setting us up here; telling us who to talk to and advising on my visa application. 
"We needed office space in London to start up. We needed to register the business. We were helped by London & Partners with both of these things. They put us in touch with the right people and brought in companies to help with the registration process. They even introduced me to people who could help me find personal accommodation." 
Why London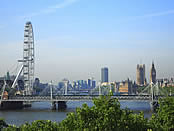 "We had the American market fairly well covered but not much in the European space. Europe was the next obvious place to go: the market is not as big as in North America but is definitely untapped. 
"We needed a presence in this space, particularly as 30 to 40% of the global software market is in London and the UK.
"Europe was the next obvious place to go. We needed a presence in this space, particularly as 30 to 40% of the global software market is in London and the UK.
"London is also central in terms of reach. A lot of our prospects are already in London and we are able to reach out to companies easily."
The Results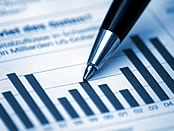 "It has been a wonderful success so far. We are already seeing the benefits of having local premises such as being available for meetings. The UK likes face-to-face meetings a lot more than the US for example. 
"We have acquired two major customers of some size. We certainly wouldn't have been able to acquire these companies without being here. And we have built up a pretty strong pipeline.
"We expect our London office to grow into our European HQ over time. We also project that 30-50% of the company's overall revenue will come from Europe."
The Future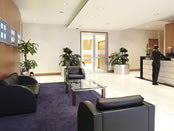 "We will grow. Our London office is projected to have one to five people by the end of 2010 and 20 to 25 in the second full year of trading. We are already seeing signs of growth.
"Also, I'm sure that London & Partners will continue to surprise me with their range of services. We will continue to use them." 
Expanding in the Downturn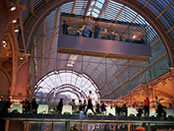 "The downturn is having an impact. However, it's not as big as I expected and we're already seeing signs of revival in the market. 
"Also, by setting up and getting our name out there now, we will be ready when companies are thinking about buying, when the business really gets going."
London 2012
"We want to have a piece of the cake. We are looking at product development in this area, and are already pitching to companies who are working for the Olympics."
Contact us to find out how we can help you set up business in London.