London: Brought to You by London & Partners
Well known Londoners talk about why they love London and what makes it so unique. London is the best big city on earth for culture, business, sport, food, creativity... just about everything in fact! Watch the film to find out more.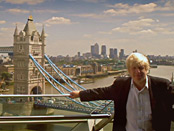 How The London & Partners Brand Evolved
Come on on a journey into outer space to discover how we developed the London & Partners logo.