London & Partners' television studio is available to hire. With stunning views of the River Thames, our office is the perfect setting for filming.
Hiring the Television Studio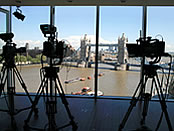 London & Partners' TV studio is operated in conjunction with Trickbox TV Limited.
Offering one of the best backdrops in London, the studio is fully equipped for all kinds of productions including live broadcast and webcast.
For more information, please contact Liam Laminman on liam@trickboxtv.com or +44 (0)20 7193 9722.